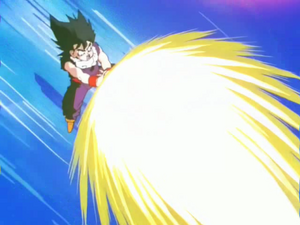 Masenko (魔閃光) is an energy wave used primarily by Gohan, but it was either taught by or taken from Piccolo. The attack is performed by the user placing both hands above the head with the palms facing the target and one hand in front of the other with the fingers going in opposite directions. When the user thrusts their hands forward, they call the name and fire a beam of yellow, white, or orange energy. When used by its inventor King Piccolo, he originally fires two energy waves one after another; the first to distract the opponent and the second to actually hit them head on. This was fixed in later uses of the technique. [1]Future Gohan prepares a Masenko
Gohan used this attack for the first time in response to Nappa killing Piccolo, to no avail. He then used it many times throughout the Vegeta, Namek, Captain Ginyu, and Frieza Sagas, though it was mistakenly named Kamehameha in the Ocean Dub. Piccolo also used it against Frieza to no effect. In the Garlic Jr. Saga, Gohan used Masenko beams to dispatch Garlic Jr.'s henchmen. Piccolo has supposedly used this move once before, but it could be mistaken for his Explosive Demon Wave, where he shouts, "Masenko!"
There are many variations of the Masenko:
Ad blocker interference detected!
Wikia is a free-to-use site that makes money from advertising. We have a modified experience for viewers using ad blockers

Wikia is not accessible if you've made further modifications. Remove the custom ad blocker rule(s) and the page will load as expected.